IERH acknowledges the importance of inclusive language as a component of patient-centered care and we are working to improve our content. Read more here.
Video Lecture Presented by:
Carolyn Sufrin, MD, PhD
Johns Hopkins School of Medicine
Click here to download this video lecture 
Lecture can be viewed with subtitles in Spanish or French. French translation was made possible by the Safe Abortion Action Fund and International Planned Parenthood Federation. Click the Closed Captions button on video lectures to access subtitles. 
Duden B. The women beneath the Skin: A Doctor's Patient in Eighteenth-century Germany. Cambridge, MA: Harvard UP; 1998.
Ginsburg F, Rapp R. The politics of reproduction. Annu Rev Anthropol 1991;20:311-43.
Institute G. Guttmacher Institute: Home Page. 2015.
Weir L. Pregnancy, Risk and Biopolitics: On the Threshold of the Living Subject. USA and Canada: Taylor & Francis e-library; 2006.
Abortion and its Multiple Contexts Slide Set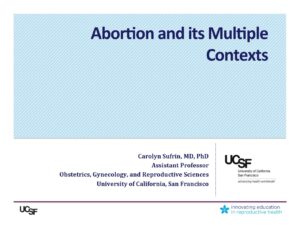 ---
Slide Set from Video Lecture Presented by:
Carolyn Sufrin, MD, PhD
Johns Hopkins School of Medicine
Click to download Abortion and its Multiple Contexts (pdf)