Video Lecture Presented by:
University of California, San Francisco
Click here to download this video lecture
Citations:
Jones RK, Jerman J. Abortion incidence and service availability in the United States, 2011. Perspect Sex Reprod Health 2014 Mar;46(1):3-14.
Robert Graham Center
O'Connell K, Jones HE, Simon M, Saporta V, Paul M, Lichtenberg ES. First-trimester surgical abortion practices: a survey of National Abortion Federation members. Contraception 2009 May;79(5):385-92.
Paul M, Nobel K, Goodman S, Lossy P, Moschella JE, Hammer H. Abortion training in three family medicine programs: resident and patient outcomes. Fam Med 2007 Mar;39(3):184-9.
Westfall JM, Sophocles A, Burggraf H, Ellis S. Manual vacuum aspiration for first-trimester abortion. Arch Fam Med 1998 Nov-Dec;7(6):559-62.
Godfrey EM, Rubin SE, Smith EJ, Khare MM, Gold M. Women's preference for receiving abortion in primary care settings. J Womens Health (Larchmt) 2010 Mar;19(3):547-53.
Rubin SE, Godfrey E, Gold M. Patient attitudes toward early abortion services in the family medicine clinic. J Am Board Fam Med 2008 Mar-Apr;21(2):162-4.
Shochet T, Trussell J. Determinants of demand: method selection and provider preference among US women seeking abortion services. Contraception 2008 Jun;77(6):397-404.
Herbitter C, Greenberg M, Fletcher J, Query C, Dalby J, Gold M. Family planning training in US family medicine residencies. Fam Med 2011 Sep;43(8):574-81.
Dehlendorf CE, Grumbach K. Medical liability insurance as a barrier to the provision of abortion services in family medicine. Am J Public Health 2008 Oct;98(10):1770-4.
Abortion in the Primary Care Setting Slide Set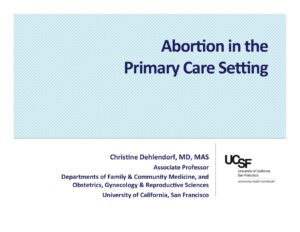 ---
Slide Set from Video Lecture Presented by:
Christine Dehlendof, MD, MAS
University of California, San Francisco
Click to download Abortion in the Primary Care Setting (pdf)