IERH acknowledges the importance of inclusive language as a component of patient-centered care and we are working to improve our content. Read more here.
Video Lecture Presented by:
Jen Kerns, MD, MPH
University of California San Francisco
Click here to download this video lecture 
Lecture can be viewed with subtitles in Spanish or French. French translation was made possible by the Safe Abortion Action Fund and International Planned Parenthood Federation. Click the Closed Captions button on video lectures to access subtitles. 
Citations:
Institute G. Induced Abortion in the United States. July 2014
Institute G. Guttmacher Policy Review 16(2): Table of Contents. 2015
Jagannathan R. Relying on surveys to understand abortion behavior: some cautionary evidence. Am J Public Health 2001 Nov;91(11):1825-31.
Parazzini F, Ricci E, Chiaffarino F, Cipriani S, Tozzi L, Fedele L. Does induced abortion increase the risk of preterm birth? Results from a case-control study. Gynecol Obstet Invest 2010;69(1):40-5.
Henriet L, Kaminski M. Impact of induced abortions on subsequent pregnancy outcome: the 1995 French national perinatal survey. Bjog 2001 Oct;108(10):1036-42.
Moreau C, Kaminski M, Ancel PY, Bouyer J, Escande B, Thiriez G, et al. Previous induced abortions and the risk of very preterm delivery: results of the EPIPAGE study. Bjog 2005 Apr;112(4):430-7.
Martius JA, Steck T, Oehler MK, Wulf KH. Risk factors associated with preterm (<37+0 weeks) and early preterm birth (<32+0 weeks): univariate and multivariate analysis of 106 345 singleton births from the 1994 statewide perinatal survey of Bavaria. Eur J Obstet Gynecol Reprod Biol 1998 Oct;80(2):183-9.
Raatikainen K, Heiskanen N, Heinonen S. Induced abortion: not an independent risk factor for pregnancy outcome, but a challenge for health counseling. Ann Epidemiol 2006 Aug;16(8):587-92.
Kalish 2002
Freak-Poli R, Chan A, Tucker G, Street J. Previous abortion and risk of pre-term birth: a populations study. J Matern Fetal Neonatal Med 2009 Jan;22(1):1-7.
Jackson JE, Grobman WA, Haney E, Casele H. Mid-trimester dilation and evacuation with laminaria does not increase the risk for severe subsequent pregnancy complications. Int J Gynaecol Obstet 2007 Jan;96(1):12-5.
Melbye M, Wohlfahrt J, Olsen JH, et al. Induced Abortion and the Risk of Breast Cancer. New England Journal of Medicine. 1997;336(2):81-85. doi:10.1056/NEJM199701093360201
Lindefors-Harris BM, Eklund G, Adami HO, et al. Response bias in a case-control study: analysis utilizing comparative data concerning legal abortions from two independent Swedish studies. Am J Epidemiol 1991;134:1003-8.
Steinberg JR, Russo NF. Evaluating research on abortion and mental health. Contraception. 2009;80(6):500-503. doi:10.1016/j.contraception.2009.06.003
Kelly K. The spread of 'Post Abortion Syndrome' as social diagnosis. Soc Sci Med 2014 Feb;102:18-25.
Weitz TA, Moore K, Gordon R, Adler N. You say "regret" and I say "relief": a need to break the polemic about abortion. Contraception. United States; 2008. p. 87-9.
Stotland NL. Psychosocial aspects of induced abortion. Clin Obstet Gynecol. 1997;40(3):673-686. doi:10.1097/00003081-199709000-00026
Lee SJ, Ralston HJP, Drey EA, Partridge JC, Rosen MA. Fetal PainA Systematic Multidisciplinary Review of the Evidence. JAMA. 2005;294(8):947-954. doi:10.1001/jama.294.8.947
Myths about Abortion Complications Slide Set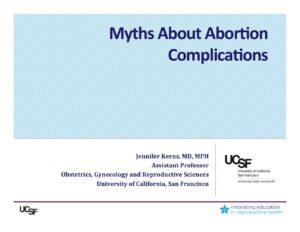 ---
Slide Set from Video Lecture Presented by:
Jennifer Kerns, MD, MPH
University of California, San Francisco
Click to download Myths about Abortion Complications (pdf)