Video Lecture Presented by:
Amy Levi, PhD, CNM, WHNP-BC
University of New Mexico
Additional Resources
Revised code of Ethics in 2015
The ICN code of Ethics for Nurses
Click here to download this video lecture
Lecture can be viewed with subtitles in Spanish or French. French translation was made possible by the Safe Abortion Action Fund and International Planned Parenthood Federation. Click the Closed Captions button on video lectures to access subtitles. 
Abortion Train. 20 Cavendish Square London: Royal College of Nursing; 2008
Who we are. 2015 [cited; Available from: http://www.icn.ch/who-we-are/who-we-are/
Association AN. Code of Ethics for Nurses. 2015 [cited; Available from: http://www.nursingworld.org/codeofethics
Nursing Roles in Abortion Care: Clinical Responsibility and Professional Ethics Slide Set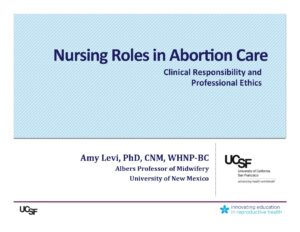 ---
Slide Set from Video Lecture Presented by:
Amy Levi, PhD, CNM, WHNP-BC
Albers Professor of Midwifery
University of New Mexico
Click to download Nursing Roles in Abortion Care: Clinical Responsibility and Professional Ethics (pdf)