Video Lecture Presented by:
Jody Steinauer, MD, MAS
University of California, San Francisco
Click here to download this video lecture
Lecture can be viewed with subtitles in Spanish or French. French translation was made possible by the Safe Abortion Action Fund and International Planned Parenthood Federation. Click the Closed Captions button on video lectures to access subtitles. 
Citations:
Neumann M, Edelhäuser F, Tauschel D, Fischer MR, Wirtz M, Woopen C, et al. Empathy decline and its reasons: a systematic review of studies with medical students and residents. Acad Med 2011 Aug;86(8):996-1009.
Provide. Bringing a Referrals Training to Your Site – Provide. 2015
Shapiro J. Walking a mile in their patients' shoes: empathy and othering in medical students' education. Philos Ethics Humanit Med 2008;3:10.
Adapted from Obtaining Abortion Training: a Guide for Informed Decision-Making. NAF, 1998.
Teaching Professionalism for Abortion Care Slide Set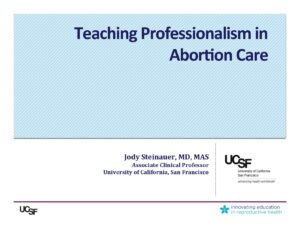 ---
Slide Set from Video Lecture Presented by:
Jody Steinauer, MD, MAS
University of California, San Francisco
Click to download Teaching Professionalism for Abortion Care (pdf)