Video Lecture Presented by:
University of California, San Francisco
Additional Resources
Guttmacher state laws and policy regarding conscientious refusal in the United States
FIGO guidelines on conscientious objection
Center for Reproductive Rights Law and Policy, Guide on Conscientious Objection (International Perspective)
Click here to download this video lecture 
Lecture can be viewed with subtitles in Spanish or French. French translation was made possible by the Safe Abortion Action Fund and International Planned Parenthood Federation. Click the Closed Captions button on video lectures to access subtitles. 
Chavkin W. Conscientious objection to the provision of reproductive healthcare. Int J Gynaecol Obstet 2013 Dec;123 Suppl 3:S39-40.
Freedman LR, Landy U, Steinauer J. When there's a heartbeat: miscarriage management in Catholicowned hospitals. Am J Public Health 2008 Oct;98(10):1774-8.
Freedman LR, Stulberg DB. Conflicts in Care for Obstetric Complications in Catholic Hospitals. 2012:1- 10.
Harris LH. Recognizing conscience in abortion provision. N Engl J Med 2012 Sep;367(11):981-3.
Lithwick D. Why Should We Worry About Religious Conscience Clauses? 2013 2013-10-03T10:35:11Z.
Lynch HF. Conflicts of Conscience in Health Care: An Institutional Compromise: MIT Press.
Dickens, Conscientious Commitment, 2008.
Conscientious Provision and Refusal of Abortion Care Slide Set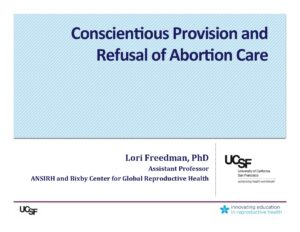 ---
Slide Set from Video Lecture Presented by:
Lori Freedman, PhD
University of California, San Francisco
Click to download Conscientious Provision and Refusal of Abortion Care Slide Set (pdf)